What I'm trying to do
I am building a digital bookshelf with various ways to display the books. Within this, I have a page to display data on the books, no. of pages read, and a page where have a table with the books being currently read.
Things were going well when I noticed that sometimes the books or data that I want to be displayed do not appear.
Examples:
Currently Reading Section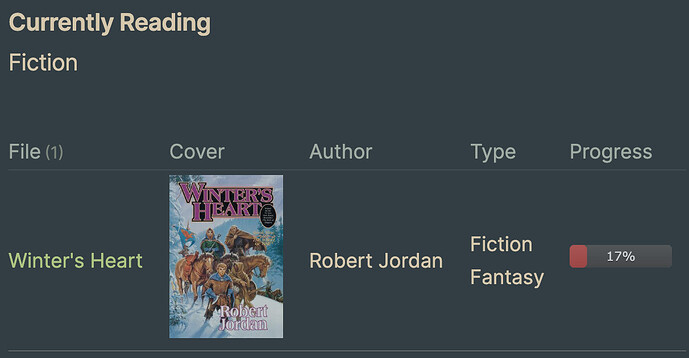 There is only one book when there should be 2. Here is the other:
---
Tags: [book, fiction, sciFi,murderbot]
Cover: https://d1w7fb2mkkr3kw.cloudfront.net/assets/images/book/lrg/9781/2501/9781250186928.jpg
Type: [Fiction, Sci-Fi]
Series: The Murderbot Diaries
Order: 2
Author: [Martha Wells]
Status: Reading
Year: 
Pages: 149
CurrentPage: 15
OrderInYear:
Month: 
---

I noticed that for some reason all of the books in the series above do not appear and I can't see why.
Books data
On this page, I have some data like the number of books read per year and the number of pages per year.
The number of books worked fine, but in the number of pages there is a missing year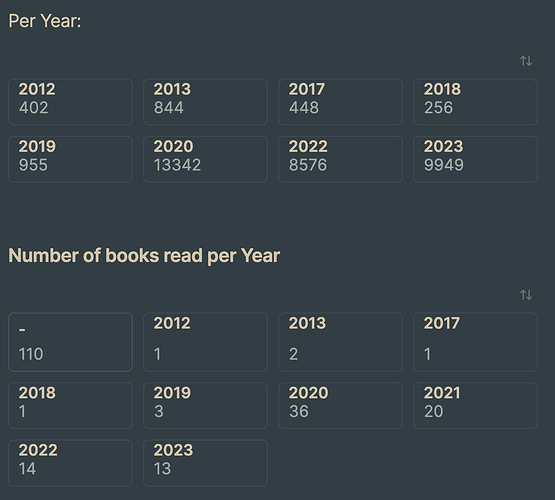 Since one of the tables, there is showing all the years I can't find any solution for this.
Can someone help here? Could it be a bug or something I am not doing right? Thanks!