The list at the top of this page is not up-to-date.
"Obsidian Dark Pie Graphite"
Theme: "Obsidian Dark Pie Graphite"
Not exactly a new theme, just an adaptation of three great themes in one.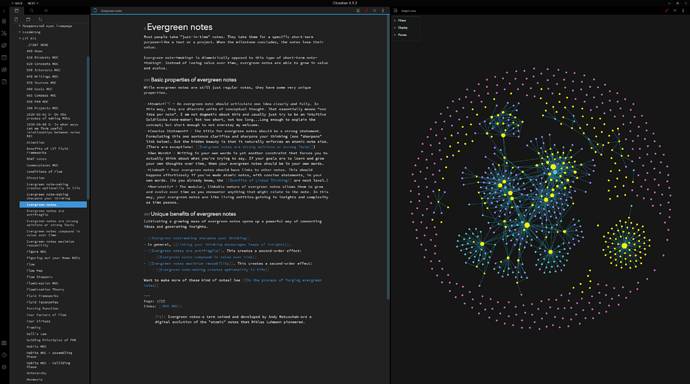 Tested on version: 0.9.6
Last Updated: Oct 31, 2020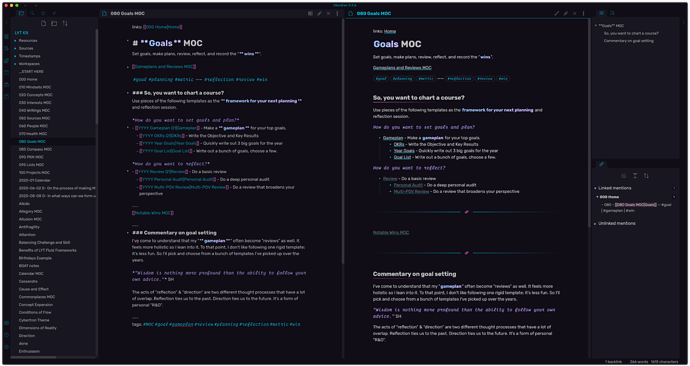 Is there / could there be a page where theme developers describe their themes? I find this thread helpful, but screenshots aren't searchable. It would be great to have text descriptions so we could
see a theme developers intentions (to see if they match our own) and
quickly search for keywords for what we want
People are putting a lot of thought and work into themes and I'd appreciate having a better sense of what those thoughts are
@unrelated that'd probably be something better spearheaded by the @moderators or the creators, as it involves requiring people to post about their intentions or describe their themes. Not sure how that'd work.
I created this thread because getting screenshots of the themes is something I can do fairly easily on my own without the help of others.
i've updated this theme with a variation that pulls colors from my warmth theme. lots of little tweaks and refinements too. seems like i'm always fiddling with the theme when i'm feeling distracted or when there are new updates to obsidian. i'd love for people to take it for a spin and let me know what you they think.
@misterchad: nice theme, both light and dark versions. I use the Andy sliding panes, and the so-called spine of the active pane is transparent - no good.
I'll take a look and see if i can make it work for you. updates coming soon (i hope).
I made a change so the spines of the panels are opaque. also lightened the drop shadow a bit because it seems so heavy by default. let me know if it works for you.
Dark

Light
Spectrum Theme