What I'm trying to do
Hi,
I am manually documenting trades I make in a daily note (thoughts, ideas, emotions). The file name is the current date of that day in the format dd.MM.yyyy (lets call them mind notes)

I also download a CSV document weekly from my broker where every single transaction is listed to review my trades (data notes)

I am trying to merge data notes into mind notes as there is always one mind note for the day but many data notes for each transaction

The goal is to automatically prepare that final file for future queries with the help of templetar
Things I have tried
With templetar I was able import my CSV file to obsidian and convert each line of transaction into one note. A day can have many transaction so the output looks like this
Data Notes Folder
21.06.2023 9_22
21.06.2023 10_14
21.06.2023 10_18
21.06.2023 13_14
20.06.2023 08_24
20.06.2023 09_36
20.06.2023 11_56
Mind Notes Folder
The columns of the CSV files are converted into frontmatter so my Data Notes have a date field as metadata dd.MM.yyyy hh:mm and as file name dd.MM.yyyy hh_mm

My Mind Notes have no date field as frontmatter yet since the filename is already a date (I suppose)

I want to merge my files to make it easy to query them in the future and I am not sure how to go about it. The following is screenshot of a work in progress query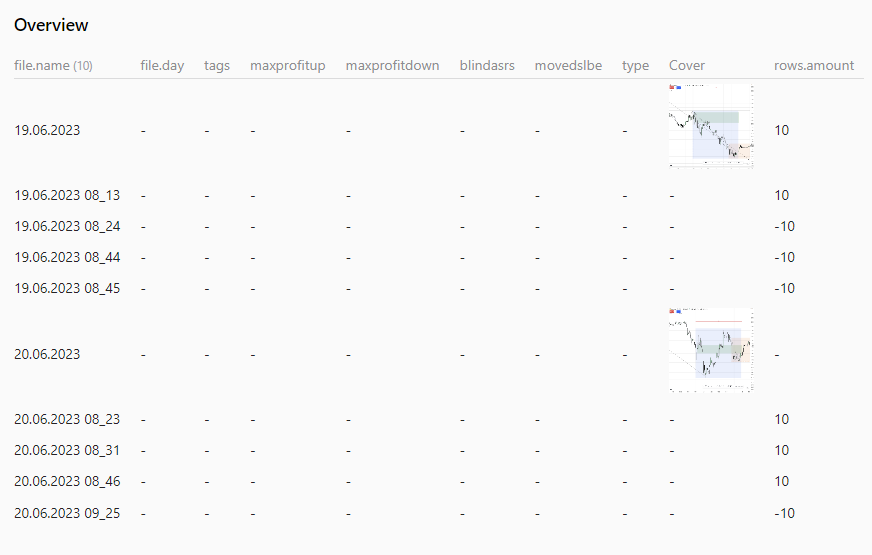 dataview
TABLE file.day, tags, maxprofitup, maxprofitdown, blindasrs, movedslbe, type, embed(link(rows.cover, "300")) as Cover, rows.amount
FROM "Mind Notes" OR "Data Notes"
WHERE type = "trade"
SORT file.day ASC
GROUP BY file.name

Atm I just manually add a type="trade" field to have a common query and group by file.name. But I feel like there should be a more elegant way to go about my endeavor.

Is it even necessary to merge my files or should I just work with queries to select for my data

Or is ist better to have one file with clean metadata

My goal is to analyze trades with queries. Therefore I will add more fields later or consolidate them

As you can see in the screenshot by grouping I'm already running into problems, because now my query needs to have rows.amount to show content

Im worried that if I don't start with a clean approach now its gonna be a mess once I add more and more queries, fields and trades
So any guidance how to go about this would be very appreciated. I hope my use case description is somewhat understandable.
Thanks
Michael
Another Example Query: