Things I have tried
I opened an audio file to play it.
I see this:

If I click on the play-button, the song speed is too fast. I cannot open the settings (right gear), there occures only a small line: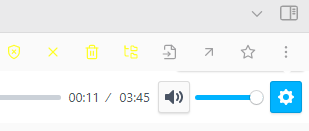 I cannot post the issue there
so I try it here.
If I switch the plugin off, the sound files look as

and I have no problems.
What can I do get the plugin running as when I installed it (weeks ago)?