Finally managed to make better use of my MBP Touch Bar while using Obsidian.
Most of MBP users heard of Better Touch Tool (BTT) app. It's a bit expensive but I managed to get it for a significantly discounted price (Less than £3) by buying Better Snap Tool (another company's app) and then activating BTT using the same license (which the company allows!).
Anyhow, after sometime trying to understand the app, which doesn't have a very user-friendly interface, I manage to create my own apps' Touch Bar buttons including for Obsidian which is a huge productivity boost for my daily workflow.
Features/buttons:
Search notes
Change vaults
Navigation (back/forward)
Formatting (headings, lists… etc)
Embeds & links
Callouts (with colors and icons visible on touch bar)
Left/Right sidebars toggles
Fold/Unfold
View modes toggles (Reading/Edit/Source)
Dark/Light (uses Minimal Theme shortcut)
Split window Right/Down
Insert Template
Insert Canvas
Chat GPT text generation
Requirements for some buttons: will need to change Hotkeys from Obsidian settings to match my shortcuts.
Insert template: CMD+Option+CTRL + T
Embed: CMD+Option+CTRL + E
Light/Dark mode (Minimal Theme setting) CMD+Option+CTRL + L
Insert Canvas: CMD+Option+CTRL + 0
Notice:
Rest of buttons work for the current latest version of Obsidian (1.3 May 2023). Future Obsidian releases might (with little chance) affect the functionality of my buttons so will need some slight adjustments.
Screenshots: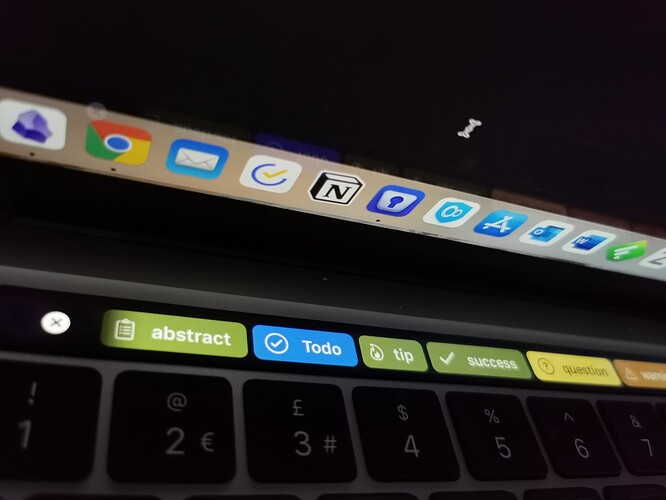 Download (Need Better Touch Tool to be installed first then double click my file to import into your settings):
Obsidian_export.bttpreset.zip (103.1 KB)