TL;DR: Add an "Outgoing links" section to the 'backlinks pane' — listing all the outgoing links from the current note in a sortable list.
Use case or problem
Like many Obsidian users, I am just as interested in seeing/editing note relationships (i.e. links) as I am in seeing/editing note content. I want to be able to see at a glance how the note I'm currently editing connects to the wider note network.
Example
I free write a 3-page note, working through ideas for a writing project I'm working on.
I create [[wikilinks]] for key ideas as I write. Some already exist as notes, some are new.
When I'm finished, I want to see a summary of the note's new and related ideas as a list of outgoing links. This list suggests possible next steps for me: contribute new thoughts to existing notes or harvest content for brand new notes.
I click the one that I feel the most energy to work on and get to work.
Proposed solution
Add a forward/outgoing link list to the current 'backlinks pane'. Here's a mockup.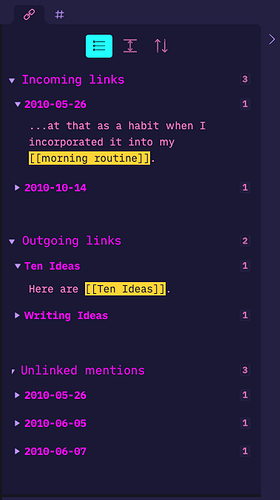 Current workaround
Local Graph provides one view into the active note's outgoing links. But a list view would have UX advantages: it's sortable, shows context, and is much easier to read than the Local Graph when there are many links.
(This feature might seem redundant to people whose notes tend to be short — the outgoing links are shown in the text after all — but it would be a godsend to people like me with long-form notes that include many links.)
Related feature requests
Closely related and complementary to @lucasd's request to show "outgoing unlinked mentions" in the link pane — that is, suggestions for links you might want to add to the current note because you're mentioning topics written about elsewhere:
It would be extra useful for the outgoing link list to visually distinguish between existing and non-existing notes, with color or otherwise (like the graph view does):