Hello everyone,
I need help adjusting the display of a Dataview query.
Based on the ideas of DeeConstruct, I decided to use log lines.
What I'm trying to do
Either they are entered manually (a template and some corrections or Espanso) or they are created by QuickAdd as a task.
Here is an example of the LOG and TASKS that are in my daily notes.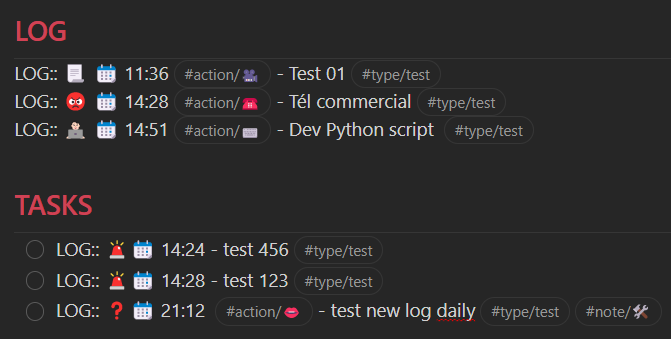 Then I have two queries that show me all the lines with LOG:: (I haven't found how to make one for both cases - your suggestions are welcome):
In the first one (thanks again to DeeConstruct) I see my daily notes with all log entries. The logs are grouped by date. It is what I need.
I try to do the same in the second one, but I can't group the tasks by day.
Of course, I tested with the Tasks Plugin, but the display is different.
I would like to have the same display in both results.
Things I have tried
Here are my Dataview scripts
For LOG
table without id
link(Source, dateformat(date(Source),"yyyy-MM-dd")) as "", rows.Details as "Details"
from !"Modèles" and "8. Q"
flatten LOG as Details
where contains(Details, "/test")
group by file.name as Source
sort rows.file.day desc

For TASKS
table tasks.text
from "8. Q/2023"
flatten file.tasks as tasks
where contains(tasks.text, "LOG::") and contains(tasks.text, "test")
sort file.day desc

Does anyone have an idea?
Thanks in advance to all