Steps to reproduce
Create a vault that contains a character like é
Add an image to it, doesn't seem to matter what extension (tried both svg and png)
Click on the file inside of the vault.
Expected result
You see the image displayed in the center area of the app
Actual result
Broken image and error in console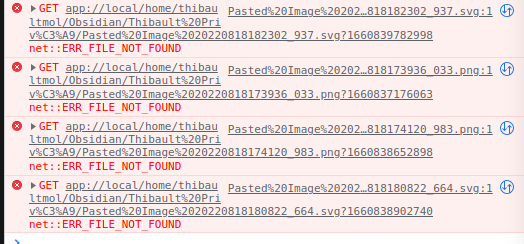 Have verified. all the images are perfectly working outside of obsidian. Or in an Obsidian vault that doesn't have that character.
I'm assuming that there's more characters that cause this issue.
Environment
Operating system:
Operating System: Garuda Linux
KDE Plasma Version: 5.25.4
KDE Frameworks Version: 5.97.0
Qt Version: 5.15.5
Kernel Version: 5.19.1-zen1-1-zen (64-bit)
Graphics Platform: X11
Processors: 16 × AMD Ryzen 7 3700X 8-Core Processor
Memory: 31,3 GiB of RAM
Graphics Processor: NVIDIA GeForce GTX 1080/PCIe/SSE2
Debug info:
SYSTEM INFO:
Obsidian version: v0.15.9
Installer version: v0.15.6
Operating system:

#1

ZEN SMP PREEMPT_DYNAMIC Thu, 11 Aug 2022 15:22:00 +0000 5.19.1-zen1-1-zen
Login status: logged in
Catalyst license: supporter
Insider build toggle: off
Live preview: on
Legacy editor: off
Base theme: dark
Community theme: none
Snippets enabled: 0
Restricted mode: off
Plugins installed: 24
Plugins enabled: 1
1: Excalidraw v1.7.13
RECOMMENDATIONS:
Community plugins: for bugs, please first try updating all your plugins to latest. If still not fixed, please try to make the issue happen in the Sandbox Vault or disable community plugins.
(I already tested it in a fresh vault as well with no plugins. same issue)