Thought this might be useful to some of the geekier users.
This is a bash one-liner (run from macOS Terminal in my case) that:
Creates a new note called "ΩΩ Link Cloud.md" listing all wikilinks used in vault, sorted by number of times used (see image).
Useful for seeing your most linked notes and also to 'Quality Check' to make sure all your links are good.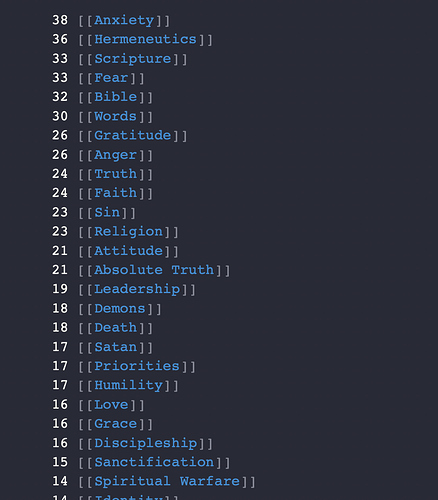 ++ Here's a 16 second video demo ++
Note:
The script needs to be run from within the folder you want to process.
I'm running it on macOS, and I don't know if it will work on PC.
You could set it up to run periodically using some sort of automation systems (Keyboard Maestro in my case, but many options out there)
---
The Script (run it from within the directory you want to process):
egrep -ohsr --exclude-dir='.*' "\[\[[A-Za-z0-9 _@ÄÖÜäöüß\'\!\?\.\(\)\-]+\]\]" -- * | sed -e 's/[[:space:]]#/#/' | sort | uniq -c | sort -r -t# -k2  > "ΩΩ Link Cloud.md"