Steps to reproduce
Open sandbox vault and make sure the preview Live Preview mode is on.
Close all the opened note
open search pane
search for /Diagram/
from the search result, select(click) the searching result in the note "Format your notes"
Expected result
in the opened note pane, no matter whether the preview Live Preview mode is on or not, the note should jumps to the location where Diagram appears.
Actual result
in the opened note pane, when the preview mode is on, the note does not show the correct location where "Diagram" appears.
Environment
Debug info:
SYSTEM INFO:
Obsidian version: v0.15.9
Installer version: v0.14.15
Operating system: Darwin Kernel Version 21.5.0: Tue Apr 26 21:08:22 PDT 2022; root:xnu-8020.121.3~4/RELEASE_X86_64 21.5.0
Login status: logged in
Catalyst license: supporter
Insider build toggle: on
Live preview: on
Legacy editor: off
Base theme: dark
Community theme: none
Snippets enabled: 0
Restricted mode: on
RECOMMENDATIONS:
none
---
Additional information
there are two workarounds:
after the note "Format your notes" has appeared and the content in preview Live Preview mode has been rendered properly, click the search result again, it will bring you to the right place. This trick works for the search pane, but for the item in a query result, it is not feasible. This is because: by default, the new note will be opened in the same pane and there is no chance for the user to click the query result (which is in the previous note) for the 2nd time.

turn off the preview Live Preview mode. It seems, with preview Live Preview mode is off, the jump is accomplished correctly in the first time. And interestingly, by follow step 1-5, when the note shows the "wrong" location, one can turn off preview Live Preview mode immediately rather than using the 1st workaround method above and see that the note is "now" shows the correct location where "Diagram" appears.
Bug and workaround-1: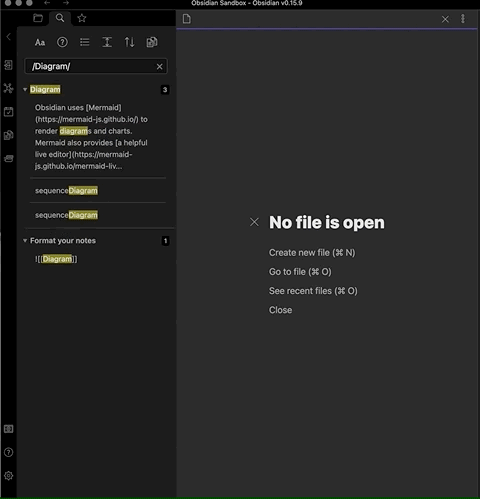 Bug and workaround-2(1):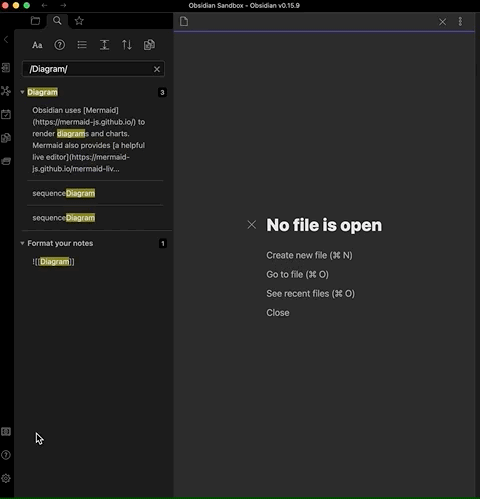 Bug and workaround-2(2):