What I'm trying to do
Hi there, I hope someone can help me out here:
We are a design agency working for loads of clients and commission even more suppliers.
What I'm trying to do is set up a system where I can see which Supplier I commissioned for what job.
I have multiple "Project" files that contain all kinds of commissions like print work, web design, signage, etc. This way I have an overview of what stuff I did for a certain client project.
For any given project it can be that I commission printer A to do the business cards, printer B to do the roll-up banner, and so on.
They're all Suppliers, but in the properties, I state what kind of company they are. For instance, I have multiple Printers, Programmers, Signage, Photographers, etc.
What I want to have is a separate file for each Supplier that shows me what jobs I commissioned to them. The link to these projects should be pulled in from any project file they're mentioned with their link [[SupplierA]].
This is the code I'm using:
TABLE Kosten
WHERE Supplier = [[SupplierA]]

The inline links I pull the data from look like this:
Supplier:: [[SupplierA]]
Order nr: 00000
Invoice nr: 0000
Date: 00-00-000

This is my problem:
This works, but… it only works when you have 1 "Supplier::" mentioned in the project file. I have multiple suppliers mentioned in a client file and Dataview doesn't show them anymore in the table.
Things I have tried
I had it set up like this in the past:
TABLE Kosten
WHERE Programmeur = [[Emonks]]

This gave me the following table, pulling together all the links from 12 project files I worked on with this Supplier: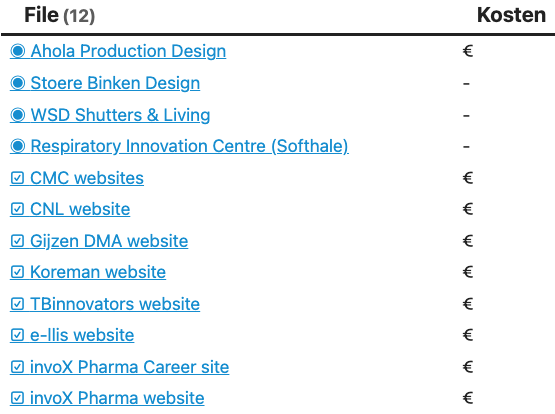 If in the Client file are 2 or more "Programmeur" inline links, Dataview will not show the page link in the table in the "Supplier" file. It will not show the file in each of the Supplier's files. Instead, it DOESN'T show the project files on either Supplier file.
I hope this makes sense to anybody. It's very hard to explain, so please ask if you don't understand it completely.