Repost due to formatting issues
Hi all,
I have a one note per task workflow. Tasks look like this:
---
tags: task
creation_date: 2023-03-30 19:56:22
---
project_name::  [[projects/1nbox  (Project).md|1nbox  (Project)]]
task_link:: [↪️](task-2023-03-30-19-56-22)
task_description::  This is just a demo task 
task_status:: created
task_priority:: medium
task_assigned_team:: MYSELF
task_assigned_person:: 
task_due:: 2023-03-30

# This is just a demo task  

- 

My due date: `= date(this.task_due)`

## Logbook

- 2023-03-30 19:56:22 Task created
- 


Reading View: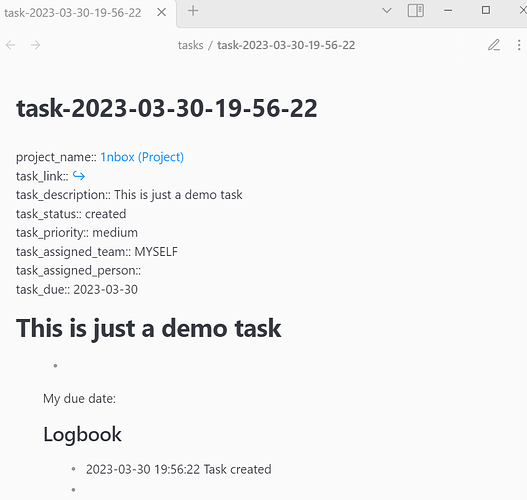 In my daily note I've got a dataview query to have an overview of my todo's:
TABLE WITHOUT ID task_description as Task, project_name as Project, task_link as L , task_priority as Priority, task_status as Status, task_due as Due
FROM "tasks"
WHERE contains(task_assigned_team, "MYSELF") AND task_status != "done"
Sort task_due Asc

The output looks like this:


No error messages are shown when entering reading mode in my daily note.
Not sure if this affects the Dataview behaviour: all tasks are within one "tasks" folder and part of a DB Folder.
What I'm trying to do
Show the inline date field in my dataview query.
Things I have tried
Serveral modifications to the query ( such as date(task_due), etc.).