What I'm trying to do
I'm trying to create a list where each item can have mixed text in it, in particular another list.
Things I have tried
This is what I've tried
- Fruits
  Fruits that I like:
  1. apple
  2. orange
  Fruits that I don't like:
    1. kiwi
    2. banana	
- Candies
  ...

In the preview this is what I get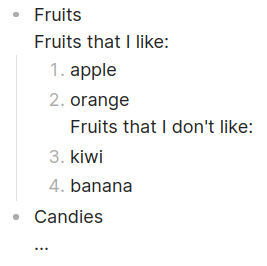 but I don't want Fruits that I don't like: to be part of the orange item.
Is there some plugin to help me achieve this type of list faster?
Thanks in advance for any kind of help.