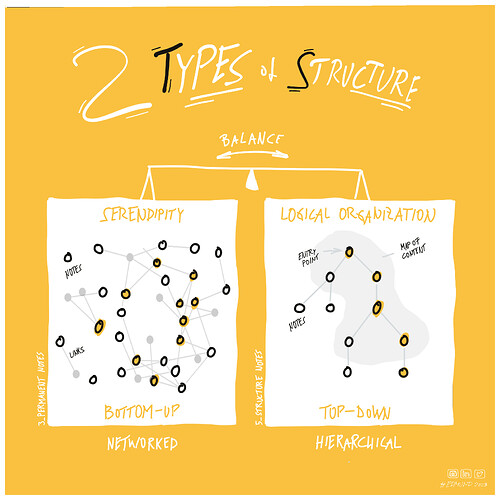 I've learned that creating and maintaining links between related notes is a key aspect of the Zettelkasten method. Linking notes to each other helps to uncover new insights and connections and improves the organization of my Zettelkasten. But how to find the best strategy for linking?
I choose using links for Zettelkasten with two different goals in mind:
to build up a network of ideas
to define a hierarchical structure
Both linking methods support the further access of ideas:
The links in my network of ideas are leading me to hidden connections in the slip-box and support serendipity.
The links which define hierarchical structures are leading me to often visited notes that belong together.
A folder structure with separated "Permanent Notes" and "Structure Notes" helps me to distinguish between the two structures.
Here's my collection of concepts for linking notes:
Move forward. Link backward.
Always keep a link to the source.
What's your preferred strategy for linking? And what's your benefit from using?
---
More about the 12 Principles For Using Zettelkasten