What I'm trying to do
Clearing my whole search history
Things I have tried
I have pressed the X in the search history window. That seem to clear the search history. But after reopening the vault, one search keeps returning. It is ### Abs .
Another thing that happens is that when I perform multiple other searches, the history looks like this: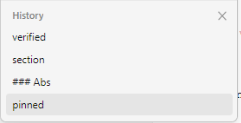 But after restarting obsidian the ### Abs is on top again: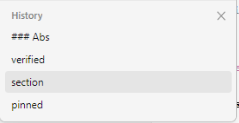 After clearing the whole list, it keeps showing ### Abs after restarting the vault.
Why is my vault so obsessed with ### Abs?

EDIT: I tried to search with ### Abs in my other vaults, but there it is gone after clearing the history.