I am trying to the automatically put the file title (writer's name) into a dataview query. If I type in "Aaron Jones" between the brackets, it works fine. I have almost 200 files to edit, so I thought I could automate it.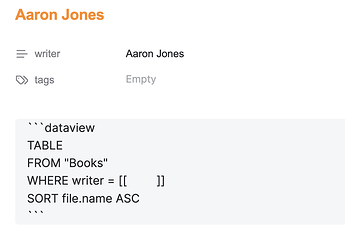 I have tried using an inline dataview query within this query but it did not work (between the brackets I added = this.writer)
Thanks in advance. Sorry if I did not format my topic correctly (newbie, here).