My config :
SYSTEM INFO:
Obsidian version: v1.3.7
Installer version: v1.3.5
Operating system: Darwin Kernel Version 22.5.0: Thu Jun 8 22:22:19 PDT 2023; root:xnu-8796.121.3~7/RELEASE_ARM64_T8103 22.5.0
Login status: logged in
Catalyst license: none
Insider build toggle: off
Live preview: on
Legacy editor: off
Base theme: light
Community theme: AnuPpuccin v1.4.4
Snippets enabled: 10
Restricted mode: off
Plugins installed: 70
Plugins enabled: 56
1: Outliner v4.8.0
2: Dataview v0.5.56
3: Tag Wrangler v0.5.11
4: Kindle Highlights v1.9.2
5: Better File Link v1.1.3
6: Find orphaned files and broken links v1.9.0
7: Hover External Link Plugin v1.0.0
8: Natural Language Dates v0.6.1
9: Theme Picker v1.0.8
10: Timestamp Notes v1.0.8
11: URL Namer v1.0.1
12: Advanced Tables v0.19.1
13: Diagrams v1.5.0
14: TimeStamper v1.3.0
15: Note Refactor v1.7.1
16: Checklist v2.2.12
17: ReadItLater v0.3.1
18: Highlightr v1.2.2
19: YTranscript v0.8.2
20: Readwise Official v2.0.1
21: Excalidraw v1.9.17
22: Antidote Grammar Checker Integration v2.1.2
23: Hover Editor v0.11.13
24: Auto Link Title v1.4.1
25: Projects v1.16.3
26: Omnisearch v1.15.2
27: Multi-Column Markdown v0.8.3
28: Extract url content v0.12.1
29: Tracker v1.10.9
30: Style Settings v1.0.6
31: Icon Folder v2.1.2
32: Banners v1.3.3
33: Editing Toolbar v2.3.1
34: MySnippets v1.2.3
35: Quiet Outline v0.3.15
36: Advanced URI v1.37.0
37: Homepage v3.5
38: Callout Manager v1.0.1
39: Metadata Menu v0.5.1
40: Mind Map v1.1.0
41: Emoji Magic v0.2.2
42: Templater v1.16.0
43: Full Calendar v0.10.7
44: Day Planner v0.5.8
45: Calendar v1.5.10
46: Periodic Notes v0.0.17
47: Enhancing Mindmap v0.2.5
48: obsidian markmind v1.7.8
49: QuickAdd v1.2.1
50: Global Search and Replace v0.3.0
51: Obligator v1.2.0
52: Recent Files v1.3.7
53: Waypoint v1.4.0
54: Custom Frames v2.4.6
55: Text Generator v0.3.20
56: Smart Connections v1.6.34
What we talking about ?
When I embem in a note an header from anoter note and there are accentued characters, the link is broken.
What I have done
I have create the link manually
![[S14 Actions & Coopération#Réunion de planification de sprint p. 286]]

and the résult is : Unable to find section #Réunion de planification de sprint p. 286 in S14 Actions & Coopération



I do the same action in the sandbox and the result it's the same
I have also, remove the dot betwen "p. 286", put underscore between the words, but none change.
But an header with accentuated characters with no content in it works, strange…
In my previous topic: Anchor link not working on somes header, CawlinTeffid a handle my case and I thank you it, is suggested me, that the accentued characters could cause a broken link.
From this, I removed the accentuated characters on an header and embed it in the note, it functioned, then I handed the accentued characters, recreate the link and victory, the embeded link works.
It's seems with a unaccentued header create a path, that allows for an an anchor link with accentued characters can works ?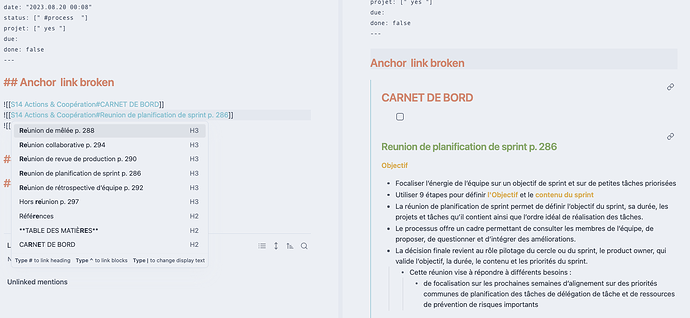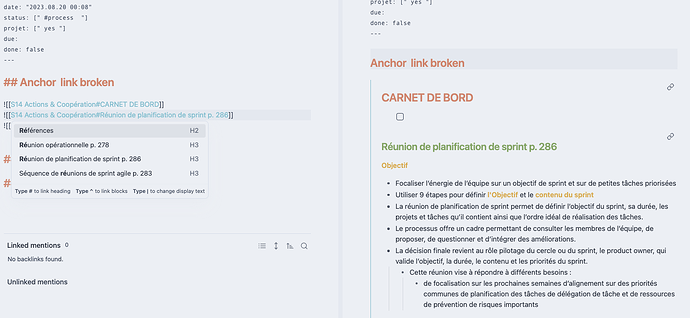 Thank you and I wish you a beautifull day