Hi OBBYs'
I'm new. Recently, when I start OBBY, I get a popup message that makes no sense:
"Since v0.13.0, folder overview (folderv) has become an opional component that requires a dedicated plugin,
Go to Folder Overview Section of the Setting Tab to install"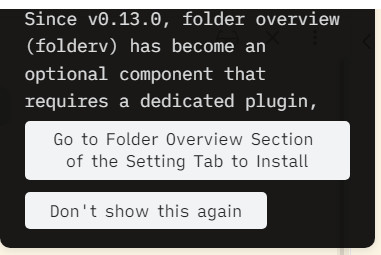 I have no idea what this means. I can't find a "Folder Overview Section" in settings or anywhere else. Nothing when I search for plugins. Anyone know what I am supposed to do? Thanks!