Hi everyone,
I am new to Obsidian and would like to implement it into my workflow as a scientist.
Here I focus on my task management. For this I would like to use the dataview plugin and very simple queries to pull out daily tasks.
I could not find an answer to my question so far, even though it is probably easy to solve.
I structured my work in projects that aim to answer a scientific question. To answer the latter I usually run several experiments at same time to gather experimental data. Those experiments usually take several days/weeks to complete. Because they don't differ much in their steps I use tasklists templates in which I only change the date of each step. (My date preset is DD.MM) So the following structure emerges:
(file name: Current Projects)
Project 1
[ ] EXP 1 - Title

[ ] Step 1

[x] 27.11 - Substep 1
[ ] 28.11 - Substep 2
[ ] …

[ ] EXP 2 - Title

[ ] Step 1

[x] 27.11 - Substep 1
[ ] 28.11 - Substep 1
[ ] …
Bc it is tedious copying each task out of this structure every day I would like to automate it so that I can have a daily list of tasks at hand the moment I enter the lab.
I wish to end up with a daily task list for the 28.11 that looks like the following:
Project 1
[ ] EXP 1 - Title
[ ] EXP 2 - Title
MY PROBLEM:
When I use dataview to collect all uncompleted tasks:
TASK
FROM "Current Projects" 
WHERE !completed 
WHERE date("2022-11-28")

… I get an output that contains all completed subtasks as well as subtasks without a date.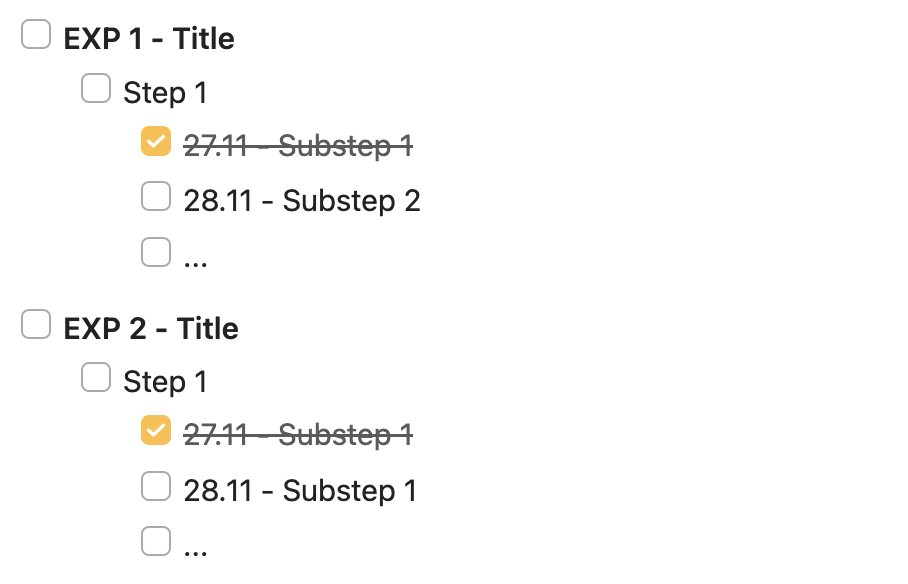 How can I solve this?
How can I also show the specific project name ahead of the tasklist?
Thank you all in advance for your help!