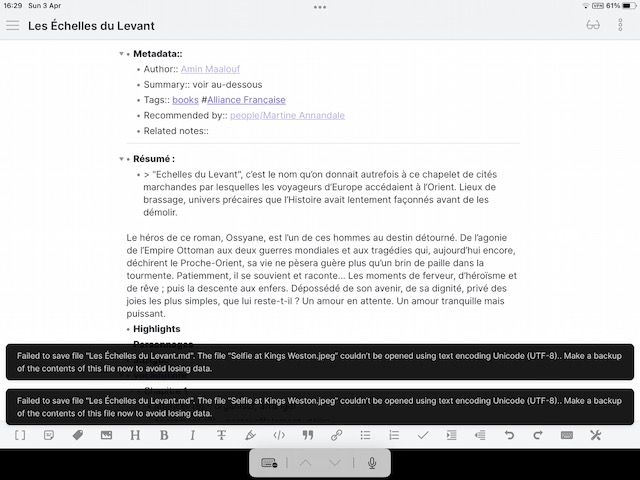 Failed to save file "xxx.md". The file "zzz.jpeg" couldn't be opened using text encoding Unicode (UTF-8)
Things I have tried
I'm using Obsidian iOS app on my iPad Pro. Synching via iCloud
It's worked fine for ages, just started giving me this problem. Whenever I try to edit a file, I get the error message as per the subject line above, and see attached screenshot. The jpeg file that the error message refers to is located in a separate folder "Assets", as specified in my Settings. The file is present, not corrupt, and is displayed flawlessly in Obsidian either by opening it directly or within the .md file where it is referenced.
The same Obsidian vault works flawlessly on my Mac, and any changes made there sync across
I've tried restarting the app, restarting the iPad, and deleting the app and reinstalling from the App Store. None of these has fixed the problem.
I tried removing the jpeg referred to from the Obsidian vault, but the problem just returned citing a different jpeg.
What I'm trying to do
Any suggestions for how to fix this so I can go back to using the Obsidian mobile app would be very gratefully received!