Things I have tried
---
I searched "miro", "embed", "iframe embed login", and "allow-popups" in the forum.
I also searched "electron blocked opening sandboxed frame 'allow-popups'" in google, which gave me this link, that suggested adding sandbox="allow-popups allow-popups-to-escape-sandbox">, to the iframe but that didn't seem to work.
If I change permissions on the board for 'anyone with link', it works great! But I'd rather open the board up to to be edited by everyone.

What I'm trying to do
---
Embed Private Miro Board via iframe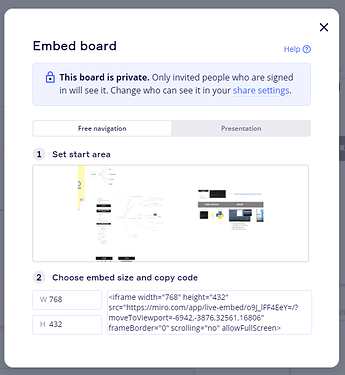 Which gives me this in Obsidian Preview: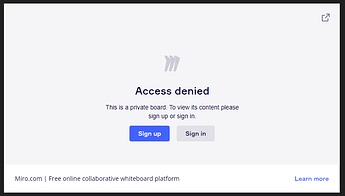 And when I click 'Sign in' is says authorizing


But the Dev Tools (Ctrl-Shift-I) shows the following error:
Blocked opening 'https://miro.com/login/?channel=live-embed&return_method=post' in a new window because the request was made in a sandboxed frame whose 'allow-popups' permission is not set.
Solution
---
Any ideas?