Steps to reproduce
To reproduce:
Create new note with this content:
Heading 1
Week 1
Heading 1 Week 1 text
Heading 2
Week 1
Heading 2 Week 1 text
Create another new note
In the new note, attempt to embed by header the second Week 1 header ![[filename

#Week

1]]
The content that displays is that of the first "Week 1" header even though both display in the drop down while typing in the header in the embed link.
This was reproduced in the sandbox vault.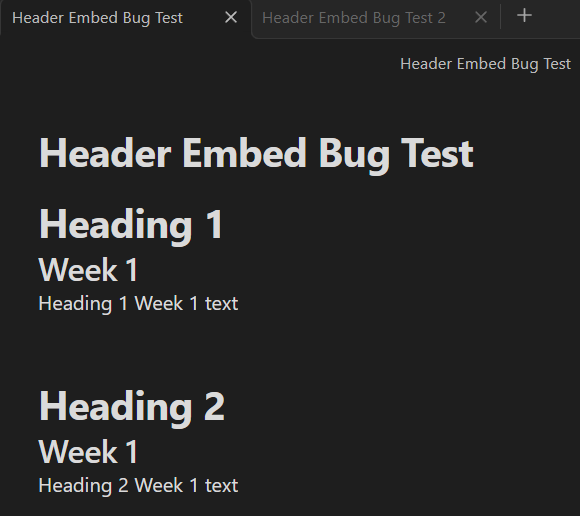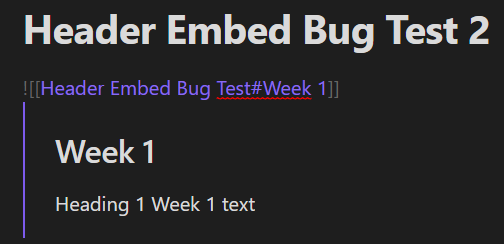 Expected result
To see the actual content under the header I chose, the second Week 1 heading in the example above, rather than the content of the header further up the note with the same name.
Actual result
The incorrect content is displayed; I'm only able to embed content from the first header of that name in a note or I have to change the name of the second heading or separate it out to a different note, neither of which is ideal.
Environment
SYSTEM INFO:
Obsidian version: v1.3.5
Installer version: v1.3.4
Operating system: Windows 10 Education 10.0.19045
Login status: logged in
Catalyst license: none
Insider build toggle: off
Live preview: on
Legacy editor: off
Base theme: dark
Community theme: none
Snippets enabled: 0
Restricted mode: on
RECOMMENDATIONS:
Please fix!
---
Additional information