Hi guys,
in my daily working routine, I log every call, meeting, … in Section 2 of an obsidian-project-note, as shown in the following screenshot: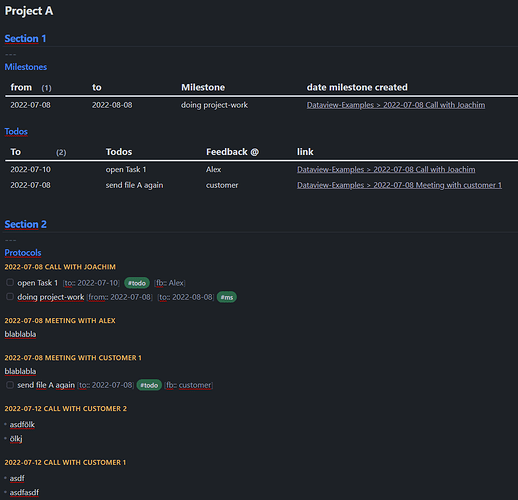 If I work for a long time on one project, lets say over a year, there will be a lot of protocols logged, and I'd like to have the possibility to "filter" that obsidian-project-note for all protocols / logs I made for example with "Customer 1". In other words, I want to generate a dataview table of all logs with "Customer 1".
The table should have the following two columns:
column: link to the header of that protocol ("for example 2022-07-12 Call with Customer 1")
column: all content, I wrote within that protocol
I think the code should somehow look like this, but I do not know the correct fieldnames.
TABLE WITHOUT ID 
	file.section.link AS "link" 
	file.section.content AS "content"
WHERE contains(section-header.text, "Customer 1")
WHERE file.name = this.file.name
SORT Tasks.due ASC

Can you help me with that?
Thanks a lot in advance,
kind regards,
Silias