What I'm trying to do
I would like to create a note called Journal Entries that contains a table that has a column called date (which is actually the file name) and a column called mentions (which is actually file.outlinks).
Further, I would like to exclude the daily template file from the query AND exclude the "Yesterday" and "Tomorrow" navigation links. Lastly, not sure if this matters, but "Yesterday" and "Tomorrow" are aliases for other journal notes. i.e.
<< [[2023-05-29|Yesterday]] | [[2023-05-31|Tomorrow]] >>

Things I have tried
While I have the basic query working and have successfully excluded the Daily Template file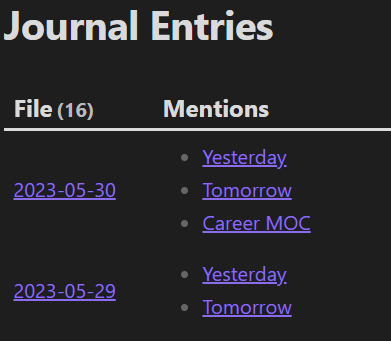 I cant figure out how to exclude the Yesterday and Tomorrow links. I am using the following query, and have tried adding AND statements excluding the Yesterday and Tomorrow outlinks, but no luck

TABLE file.outlinks as "Mentions"
WHERE contains(type, "daily") AND file.name !="Daily Template"
SORT file.name DESC

Also, apologies, but I can't figure out how to do code blocks on this forum, I will edit for clarity if somebody can advise.
I'll work on renaming the file column header later, that shouldn't be too difficult I'm hoping.