What I'm trying to do
I'm trying to list out my most recent meetings grouped by nested meeting tags.
I want my 5 most recent meetings per-group to be shown.
Things I have tried
This is my current query:
LIST rows.file.link
FROM "Calendar/09 Meetings" AND -#on/readme 

FLATTEN file.etags AS Tags
WHERE contains(Tags, "#log/meeting/")
GROUP BY Tags
SORT rows.file.name DESC

This shows all my meetings under each tag. I've tried putting LIMIT 5 under FROM which only shows 5 file rows regardless of the tag. Putting LIMIT 5 under the tag section only limits the nested tag 'headers' that the files are grouped by.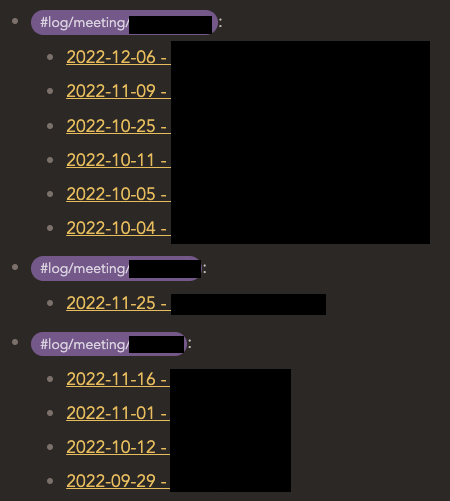 How do I limit the file rows shown to 5 on a per-group basis?