What I'm trying to do
Currently I am making a overly complex system of using TWO notes, one is a "Main" note for NPC's for my D&D vault. The YAML in these notes are for categorization and whatnot.
But I am attempting to use SECONDARY notes to store YAML for flavor text and plugin usage in order to change that 2nd note's frontmatter. THIS in particular is all functional, just explaining the usage.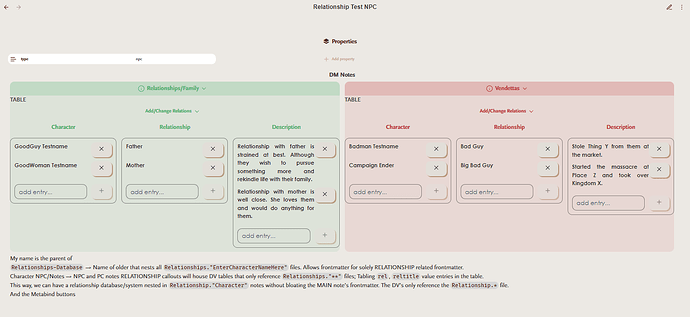 What I Request Help For:
I need a functional DV query that returns the frontmatter from the secondary note into a nice table slotted just above the data entry plugin I use that changes the YAML that I want being read. As far as I know, a DV query is the only thing that will automatically populate a table without wasting time on formatting it.
Things I have tried
This one works if it's ON the page that I use the YAML.
TABLE WITHOUT ID rel, reltitle, reldesc
FROM ""
WHERE file.name = this.file.name


But not if on another note. I simply don't know how to query it in that exact table, sorting and all. It's a cheap way to gain a table from another note's YAML and let me quickly edit it through a plugin that does so.
But it DOESNT work if it is on another note.
BONUS: HOW DO I MAKE THE QUERY LINK TO A NOTE THAT HAS THE SAME ENTRY AS the "rel" frontmatter tag?
My Frontmatter:
---
type: database
rel:
  - GoodGuy Testname
  - GoodWoman Testname
  - AnotherGuy Testname
reltitle:
  - Father
  - Mother
  - Best Friend
reldesc:
  - Relationship with father is strained at best. Although they wish to pursue something more and rekindle life with their family.
  - Relatiosnhip with mother is well close. She loves them and would do anything for them.
  - With them until the end.
relenemy:
  - Badman Testname
  - Campaign Ender
relenemytitle:
  - Bad Guy
  - Big Bad Guy
relenemydesc:
  - Stole Thing Y from them at the market.
  - Started the massacre at Place Z and took over Kingdom X.
---

Or… Is there simply a much easier way to do this?
Only need the DV to work. The Metabind plugin is needed to make the data entry part work.
TLDR; Trying to do something where I use secondary notes that are named " Rel DB - 'MAIN FILE NAME' " to store YAML I call/edit via other notes+plugins. This just cuts down on my main notes' YAML blocks, of which the secondary notes wont EVER be editted manually but through plugins on other pages.
TLDR;TLDR;
I need a way to display the YAML onto a table and cant figure out the DV queries to do so.
Rel DB - Test NPC.md (786 Bytes)
Relationship Test NPC.md (2.8 KB)