Steps to reproduce
Enable the Daily note core plugin.
And set up the following folder/file structure: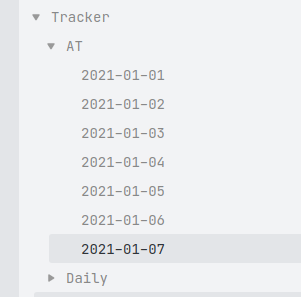 Set the "New file location" in the Daily note settings to "Tracker/Daily".
Expected result
To create a new daily note with the current date (2021-01-07) in the specified folder "Tracker/Daily".
Actual result
Opens the file with today's date (2021-01-07) from the "Tracker/AT" folder.
Environment
Operating system: Ubuntu 20.04
---
Additional information
The "Tracker/Daily" folder was empty when I tried.