Steps to reproduce
Open a new note
Use chinese input method (i have tried two different chinese input styles) to type multiple characters without pressing enter to finalize the choice of words. this is indicated by the underline of the characters
hit left directional key to choose the desired word for the character before
(please note different chinese input methods work differently, so some may require a left + down directional key combination for selecting the previous character)
Expected result
Technically, the cursor should move one character left as you hit the left directional key to indicate you are now choosing words for the character before
Actual result
the cursor still appear at the end of the characters, while the box appeared for candidate words for the word before. So no problem with word choosing, just that the cursor did not move to indicate which word is being chosen at the moment.
This only happen with the editor. The cursor behaves normally when typing in the search bar, command palette, and renaming files, both at the title section or at the file explorer pane.
Environment
Operating system: Windows 7 (home) and Windows 10 (work) both observe this problem
Obsidian version: v0.12.12
---
Additional information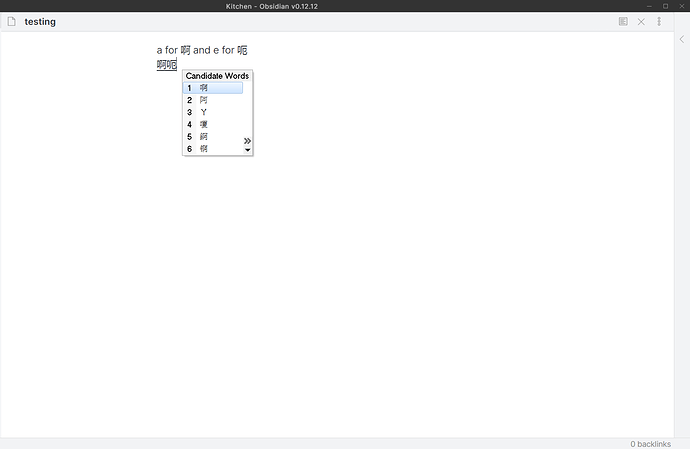 I am actually selecting desire words for the first character (which is a), but the cursor is still at the end of the line.

when typing at the title, the cursor moved to indicate which character i am choosing words for.
this trial is taken when safe mode is on.
This is a really minor problem but it really discourages me when typing chinese in obsidian. i currently use a third-party markdown app to work around this problem. hopefully some fix will come soon.
I suspect this problem is because editor is in some sort of source code mode, cause the same problem happened when i switched to source code mode in my third-party markdown app.