Hi fellow Obsidianites!
I'm in need of some assistance from anyone who is more knowledgable than me. I have spent the past week trying to achieve this with only some [read: little] success! I've searched the forum for answers, and tried my hand at online tutorials… but I need help!
A shout out to @EleanorKonik – thank you for the great video How to turn your notes into published articles and books using the Obsidian app with Eleanor Konik - YouTube which sparked my imagination for possible ways to incorporate blockquotes within my workflow – it's great to see someone else work in a similar way.
What I'm trying to achieve and why:
First, the why. I have an incredibly scattered mind, quite possibly undiagnosed ADHD (though the assessments I have taken point toward it) – nearing 40, I really should 'possibly' get this checked. As such, as a writer (both creative and academic) I have struggled for many years and discovering the Zettelkasten method back in 2012 really helped – but I still need to keep things in 'boxes' – folders work great for me as I forget to look at my tags (though I do use them also to make deeper connections) and too many notes, no matter how meaningfully connected get overlooked. The same applies to reading notes – if they are not with the original source, I forget about them – or struggle to see them in context.
It's been an uphill struggle, but I've finally developed a system in recent years… it's not perfect, but it works for me.
Focusing on curated sources – I have a Library folder with contains a subfolders for books and web articles (my two primary research sources) either saved from the web or converted from .epub to markdown. Reading, highlighting and annotations are made directly into the source document – much like one would do when reading a PDF document, but it's all in markdown and searchable within Obsidian. I don't have to switch between apps, worry about syncing highlights or try to remember were I read something that I haven't yet made a note for. It's all here (macOs and iOS) and ready to use – a nice tidy box.
The notes I create within the source function much like margin notes in a physical book (If I had the know-how I'd build a plug-in for this).
What am I trying to achieve? Multiple styles for different blockquotes per function.
direct quotes "
margin notes
comments
Some Examples
Using @EleanorKonik theme Palatinate I've been able to Frankenstein together a "margin note" blockquote snippet to use with Minimal theme.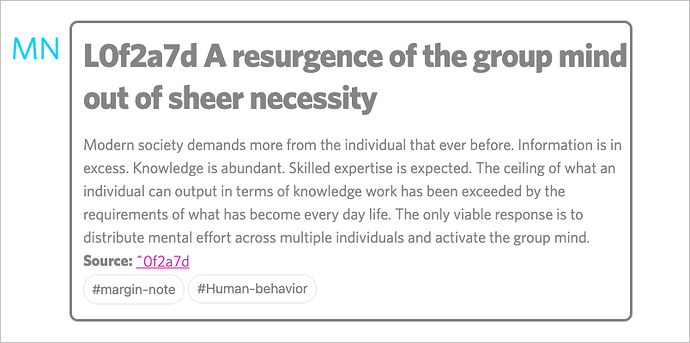 But this is a global change across all blockquotes – so I tried doing this.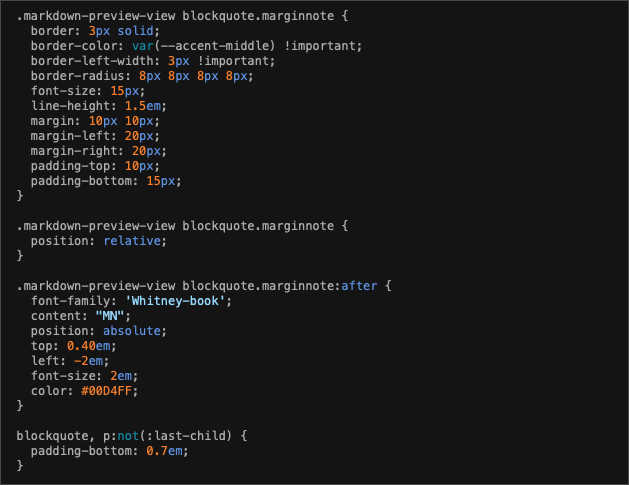 But I don't get the formatting in preview mode (as per the first image) I hoped for.

My question
Is it possible to create a snippet for different blockquotes that renders markdown syntax, links and tags in preview mode, and how would I go about doing this?
Grateful for your help in advance!