Hi,
I followed the trouble-shooting Guide.
In this thread I opened a feature request: Adjustable column size for properties for that issue, but I think it also could be considered as a bug, therefore this thread:
Steps to reproduce
In my sandbox vault, I created a new note, with one property, called "hello, long property", see here: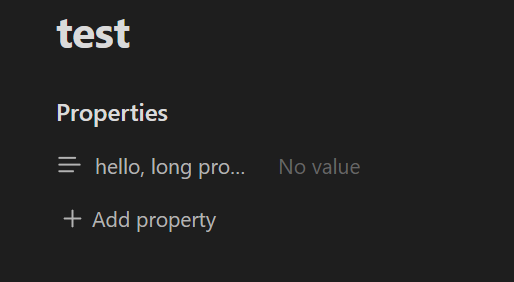 Expected result
I'd like to be able to resize the column of the properties to be able to see the full property-name.
Until now it is not possible to resize this column.
Environment
SYSTEM INFO:
Obsidian version: v1.4.8
Installer version: v1.3.5
Operating system: Windows 10 Pro 10.0.22621
Login status: logged in
Catalyst license: insider
Insider build toggle: on
Live preview: on
Legacy editor: off
Base theme: dark
Community theme: none
Snippets enabled: 0
Restricted mode: off
Plugins installed: 0
Plugins enabled: 0
RECOMMENDATIONS:
none
---