Trying to collapse the File Explorer sidebar.
I installed and applied the Shimmering Focus theme in my obsidian. I enabled all the sidebars, UI elements that were disabled on applying the theme. But I cannot find the setting or any option related to the Collapse button. The buttons that are on the left and right of the Obsidian screen to close the sidebars.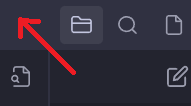 I know I can use the command palette to toggle the sidebars, and also setup hotkeys for convenience, but I need some type of icon shortcut as in other themes.