If I add a space before the 2nd ** for bold text, it bolds the text after it: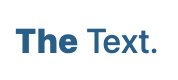 I should've also mentioned, while I know its part of the Markdown spec, I'd still like for there to be at least a delay before bolding text to the right, so the bold text doesn't flicker like that while I type.
I don't know if an existing way. Maybe a plugin could do it (not sure if possible); if not, you'd have to post a feature request (or upvote if one already exists).
This topic was automatically closed 90 days after the last reply. New replies are no longer allowed.