In order not to copy paste everything and make this a very lengthy report, I will supply a three day link to a OneDrive TestVault a do use for Obsidian Research.
Don't know if this is a good idea -> If not please do reply with better solutions
The link
https://1drv.ms/u/s!Am-UPiW-VbL4jaJpJOCozeL6RY_heQ?e=mQQ9sQ
Info:
Using Obsidian 0.8.8 on MacOSX without CSS (for testing purposes)
I was investigating on suspicious behaviour in the Linked and Unlinked mentions sub-window when I stumbled upon this 'bug' on Block Referencing. Perhaps the title should be changed as I am currently unable to reproduce what I was researching. I leave that to the moderators and makers of Obsidian.
I spotted some strange behaviour when backlinking an .md file. This is weird because Obsidian should see that as a note/Zettle and not as an external file.
Secondly the Block Referencing with the Headers seemed to work on first sight but showed some weird behaviour explained in the Bug Research - Linked mentions note which you'll find in the Vault
To already give a clue on the linked and Unlinked mentions 'thing':
Have a look at Forward and Backward links note. The [[Forward Link Note]]reference correctly displays in the pane.
In the Forward Link Note `[[Forward and Backward links]]' is also correctly displayed.
Have a look at 2020-08-30** note where I did the same.
Alltough I linked another note [[Bug Research - Linked mentions]] it is not seen in the Linked mentions pane.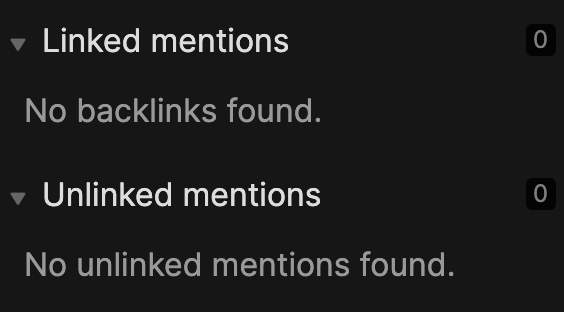 Could be I am misunderstanding the whole forward and backward linking thing but it's strange that there is another behaviour that can be seen in different notes when trying to/ doing the same thing.
Please do reach out when more info is needed