I was wondering if this can be applied/achieved to the Graph View…
I have built some nested tags, but when I realized that they were shown as "#tagA/tagA1/tagA3…" on graph view, it's counter intuitive, IMO. Is it possible to show only the last tag of the group?
Another thing is, why child tags cannot be linked to the primary ones (in the graph view)?
Why nested tags (AND their notes) cannot be colored differently of their primary ones on the group filtering of Graph View?
(I.e.
Polymath/OnlineCourses/DataScience on "DataScience.md"
Polymath/OnlineCourses/SignLanguage on "SignLanguage.md"
Polymath/Readings/Concepts on "Concepts.md"
Polymath/Readings/Authors on "Authors"
(Assume bold and italic words with different colors.)
Use case or problem
To show nested tags individually linked to their primary one (AND linked to their related notes).
NOTE(S)—>CHILD TAG(S)<—PRIMARY TAG —>NOTE(S)
Proposed solution
Current workaround (optional)
On the graph view filter group, color just the last tag of the group with the nested pattern (#tagA/tagA1/last-tag…) → Should be at least (#last-tag)
SUMMING UP:
View Last Nested Tags Individually? (no workaround)
Link Nested Tags with each other? (no workaround)
Color Individual Nested Tags (has workaround on group filtering)
Implement Colored Tags on Tag Panel (based on group filtering)? (don`t know)
Implement Centrality on Graph View (Like Gephi and Cytoscape)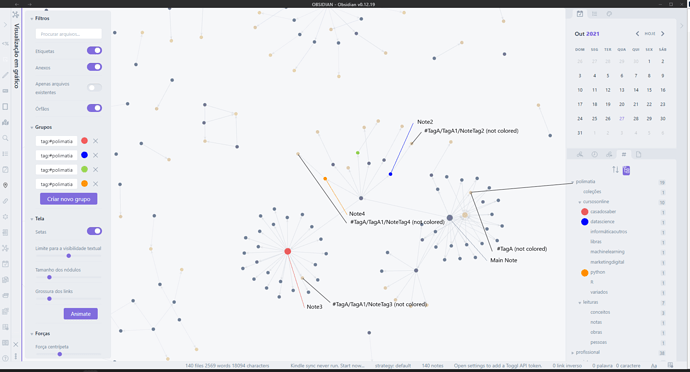 Any thoughts on this?