Use case or problem
Deleting list items requires clicking the mouse to the left of the item number and then dragging to the end of the line. It is easy to click on the first character of the item (following the item number) and then drag. If your goal is to delete the line, not having selected the entire line (i.e. including the item number) will not produce the expected result.
Additionally, selecting the entire line is a slow process.
Proposed solution
Simply clicking to the left of the item number can select the entire line. This is common behavior is most editors.
Click here: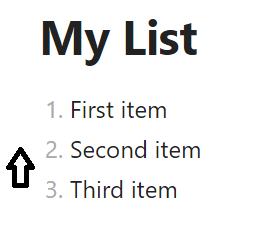 And this is the result: